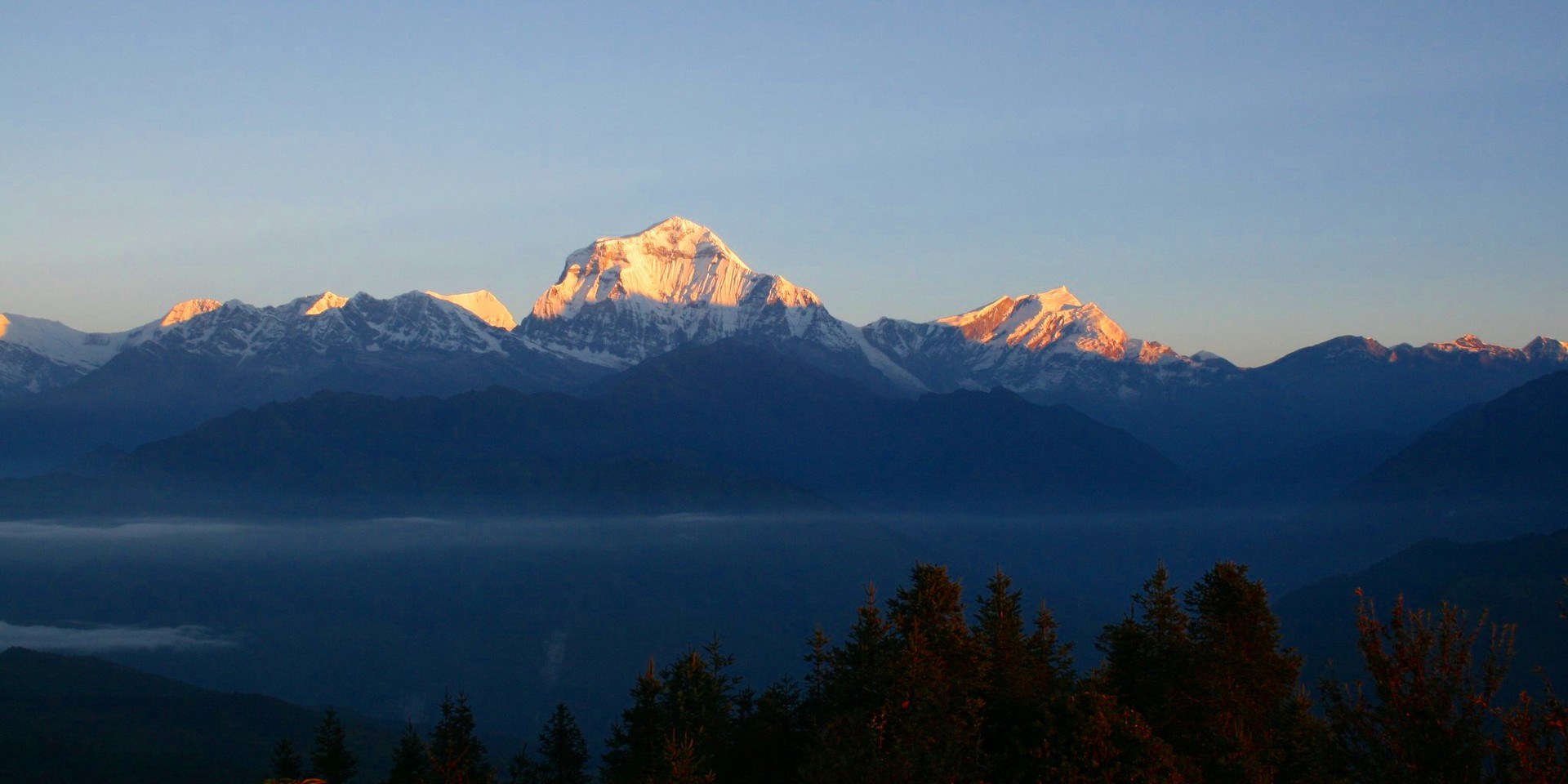 16 days – The best of the Annapurna region in a 12-day lodge trek
12 days challenging trekking in the trans-Himalaya / middle hills (maximum elevation 3,800m / 12,460′)

Spectacular views of the Dhaulagiri and Annapurna Himal ranges

Amazing diversity of topography, flora & fauna, and people & culture

Visit the shrine of Muktinath, sacred to Hindu & Buddhist pilgrims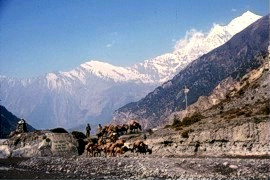 Probably the most popular trek in Nepal and with good reason, this route is often referred to as the Apple Pie trek. That should however be taken as a tribute to the culinary skills of the legendary Thakali inn-keepers who run some of the most pleasant mountain lodges anywhere, and a reminder of the apple orchards near the quaint and charming settlement of Marpha.

This fascinating trek begins in Nepal's northernmost ramparts in the Thak Khola Canyon, as the Kali Gandaki is known in its upper reaches. You explore the arid, Tibet-like semi-desert biotope of the trans-Himalaya and visit the renowned pilgrimage site of Muktinath. Our trek follows the river southward as it cuts its way down between the two 8,000m / 26,000′ massifs of the Dhaulagiri and the Annapurna Himal. Colorful mule caravans can to this day be seen plying the historic salt trade route between the lowlands of the Great Indian Plains and the elevated Tibetan plateau, demarcated by the impenetrable Himalaya. The diversity of the people, flora & fauna is as phenomenal as the scenery – dominated by the majestic summits of the Dhaulagiri and Annapurna ranges – is ever-changing. At Poon Hill we are rewarded with the opportunity to take in our journey down the interlocking spurs of the Kali Gandaki, put in perspective by the summits of Dhaulagiri and Annapurna Himal.

This trip makes for an excellent first-time Nepal trek, offering the best of the spectacular Annapurna region in Central Nepal.
Trip Itinerary
Day 1  Arrival and orientation.
Day 2  Morning drive to Pokhara. Rest of day at leisure.
Days 3-5  Fly Pokhara (884m / 2,900′) to Jomsom (2,760m / 9,050′); trek to Muktinath (3,800m / 12,460′) via Kagbeni (2,840m / 9,320′) and Jharkot (3,500m / 11,480′).
Days 6-7  Trek to Marpha (2,680m / 8,790′) via Lupra (3,000m / 9,840′) and Dhumba Lake (2,830m / 9,280′).
Days 8-10  Trek down the Kali Gandaki gorge to Tatopani (1,190m / 3,900′) via Titi Lake (2,670m / 8,760′) and Ghasa (2,000m / 6,560′).
Days 11-12  Leave the Kali Gandaki to head up to Ghorepani (2,870m / 9,410′).
Days 13-14  Early morning climb Poon Hill (3,210m / 10,530′) for a dawn panorama of the Central Nepal Himalaya. Finish trek at Nayapul (900m / 2,950′), drive to Pokhara.
Day 15  Drive to Kathmandu.
Day 16  Depart for onward destination.

Dates and Pricing

Dec 18, 2016 - Jan 2, 2017
Jan 1 - Jan 16
Jan 15 - Jan 30

Jan 29 - Feb 13
Feb 12 - Feb 27

Standard Hotels
2-5 persons
US$ 1,070
6-12 persons
US$ 941
Single room supplement
US$ 141
Airfare Pokhara - Jomsom
US$ 111
Cost Information
| | |
| --- | --- |
| | Standard Hotels |
| Kathmandu | Nirvana Garden Hotel |
| Pokhara | Hotel Trek-O-Tel |
Suggested Trips