Two itineraries to explore the mystique of this hidden paradise
Secluded from the outside world by extremely rugged terrain as well as restricted entry, Dolpo has for long captivated the imagination of many a traveler. David Snellgrove's book Himalayan Pilgrimage, George Schaller's Stones of Silence, and Peter Mathiessen's The Snow Leopard all shed patches of light on this region shrouded in mystery and piqued the interest of outsiders. More recently, Caravan, a film set in the unreal scenery of Dolpo and directed by Eric Valli won an Oscar nomination for the best foreign language film, serving to make Dolpo more familiar with the Western world.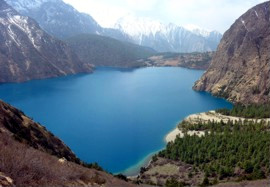 Flanked on the north and the east by the Kanjiroba and Dhaulagiri Himal and the ridges of the middle hills stretching endlessly to the south, this region is characterized by scenic little valleys and narrow gorges carved by numerous streams and rivers. The inhabitants of the lower valleys subsist on yearly harvests of wheat, buckwheat, and potatoes while further north in an even more impoverished landscape, all that can be grown is barley. As in the Khumbu, the yak and its hybrid dzo are crucial support animals, providing among other things food, fuel, and transport. This is one of the few remaining tiny pockets in Nepal where the Bon religion – an animistic faith that pre-dates Buddhism, virtually indistinguishable from Buddhism to the layman – is still practiced by a small number of people.
The Shey-Phoksundo National Park was gazetted in 1984, and covers the Phoksundo lake and the area north of it. Covering 1,390 sq. mi. / 3,555 sq. km, it is the biggest national park in Nepal and the only one in the trans-Himalayan zone. It typifies the bio tope of the high and arid Tibetan plateau, and is home to many exotic mammal species including the Himalayan weasel, the Tibetan hare, the bharal (blue sheep), musk deer, ghoral, black bear, tahr, and the magnificent snow leopard. Lake Phoksundo lies tucked between steep rock faces that tower over a mile / two kilometers above it. Viewed from a surrounding ridgetop, its turquoise blue waters reflect the majestic Kanjiroba Himal framed by gentle slopes blanketed in silver birches, a sight of otherworldly beauty.

Opened to foreigners only since 1988, this area is as remote as it is exotic. A trek in the Dolpo region is more demanding and very different from one anywhere else in Nepal. The two Dolpo treks featured here are both designed to provide an intimate cultural encounter while passing through the most scenic and interesting routes.
Suggested Trips