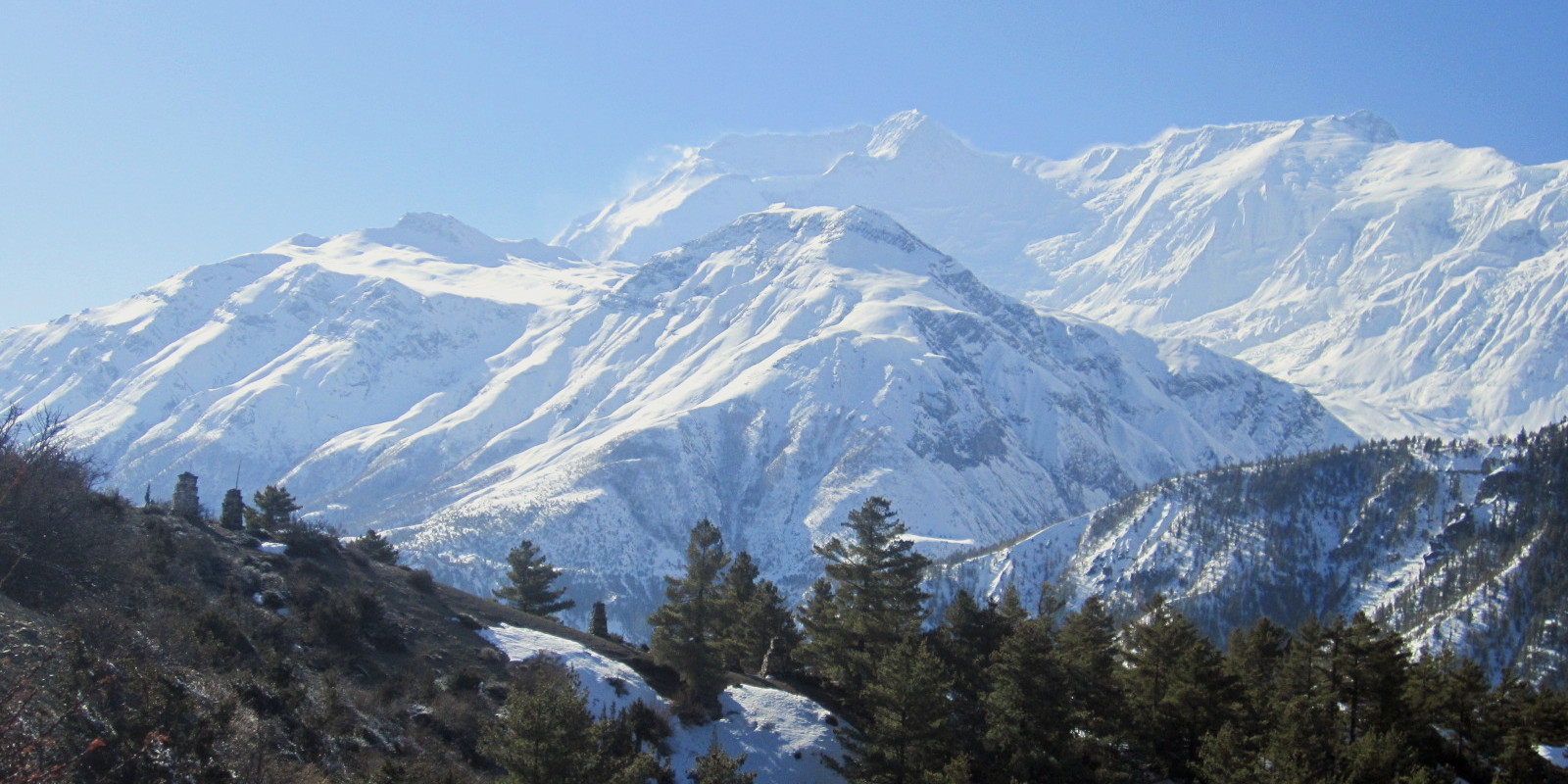 15 days – The ultimate high-altitude Monsoon trek in Nepal
12 days demanding trekking in the high Himalaya (maximum elevation 5,120m / 16,790′)

Spectacular views of the Annapurna, Dhaulagiri & Nilgiri Himal ranges, Tilicho Peak and Tilicho Lake

High Himalaya wilderness camping experience

Explore monasteries and settlements off the main trails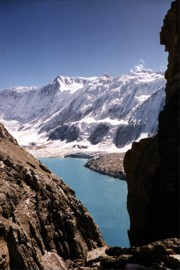 In the Annapurna range of the Central Nepal Himalaya lies Tilicho Tal (lake), at 4,919m / 16,135′ one of the highest of its size in the world. Stretching about 4km / 2.5mi long and about 1km / 0.6mi wide, it lies at the foot of the 7,134m / 23,400′ summit of the same name, north of the Grande Barriere – a 10km / 6mi long wall of rock, ice and snow.

Our trans-Himalayan adventure begins with a drive up the Marsyangdi valley to the Chame, in Manang district. Here we meet up with our team of porters and spend three days exploring the region, taking in some of the best stretches of the classic trek around the Annapurnas. We soon leave the lodges on the main trail to head up toward Tilicho Tal. These high Himalayan reaches are the habitat of the Himalayan tahr (mountain goat) and the snow leopard, among other mammals. From our camp by the shores of the lake, we climb up to the Mesokanto La (pass, 5,100m / 16,730′) where we are rewarded with the first views of the Kali Gandaki valley. We descend to stay at the charming Thakali village of Marpha. The trip ends in Jomsom with an early morning flight to Pokhara.

This is a splendid summer trek, as rewarding as it is challenging. The Tilicho lake trek undoubtedly ranks among the finest high-altitude Nepal treks best experienced in the Monsoon.
Trip Itinerary
Day 1  Arrive Kathmandu. Orientation.
Day 2  Morning drive to Dumre. Change transport and drive to Chame (2,710m / 8,890′).
Days 3-5  Trek to Pisang (3,185m / 10,450′) and continue up the valley to Manang (3,540m / 11,611′) via Ghyaru. Extra day for acclimatization at Manang.
Days 6-8  Trek to Tilicho Lake (4,919m / 16,135′) and Tilicho Base Camp (4,200m / 13,780′) via Khangsar (3,745m / 12,280′).
Days 9-11  From our camp at Meso Kanto La Phedi (4,900m / 16,070′), climb to cross the Mesokanto La (5,120m / 16,790′) and camp at summer pastures above Kaisung. Descend to the Kali Gandaki valley, meeting the main trekking trail at Marpha (2,680m / 8,790′).
Day 12  Trek via Dhumba Tal (2,830m / 9,280′) and Thinigaon (2,780m / 9,120′) to Jomsom (2,760m / 9,050′).
Day 13  Morning flight to Pokhara. Rest of day at leisure.
Day 14  Drive to Kathmandu. Afternoon at leisure.
Day 15  Depart for onward destination.
Dates and Pricing

Jul 29 - Aug 12

Standard Hotels
2 - 5 persons
US$ 1,356
6 - 12 persons
US$ 1,144
Single room supplement
US$ 160
Airfare Jomsom - Pokhara
US$ 111
Cost Information
| | |
| --- | --- |
| | Standard Hotels |
| Kathmandu | Nirvana Garden Hotel |
| Pokhara | Hotel Trek-O-Tel |
Suggested Trips